If you love tool watches, but divers are not your thing. Then Hamilton should be your go to company. Especially if you admire field and aviation inspired designs. While Hamilton is now a Swiss company. It's origins, as well as the inspiration for most of their designs, is American.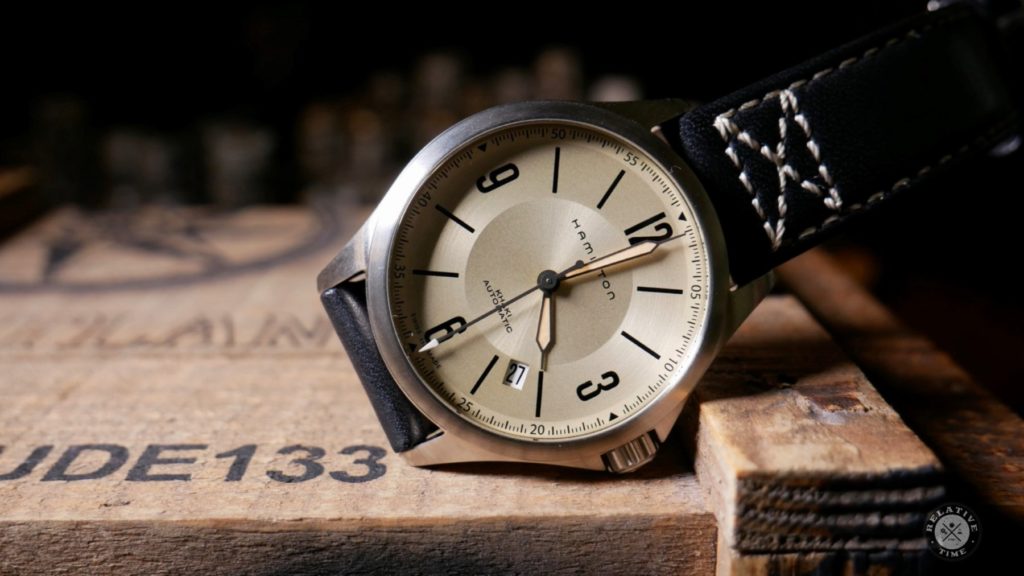 I picked this Hamilton up back last summer, but things just kept getting in the way. Which is pity. As it's a beautiful example of the type of design Hamilton can create. Something that is simultaneously simple, elegant, and effective.
It's the Hamilton Khaki Aviation, a model that believe may not be discontinued. As I can no longer find it on Hamilton's website. Yet you can occasionally find it online on Ebay, Ashford, and Joomashop. MSRP originally was a high $740, but regular price is closer to $400. Though it can sometimes go on sale for around $270. Which is a pretty good price for a hammy.
Size wise your looking at a 38mm watch, and closer to 41 with the crown. Lug to lug is about 45.5, and a descent thickness of 11mm. Although while it's a smaller watch, it never feels small as it's mostly dial.
The dial is breathtaking. A metallic champagne coloring with black accents. Divided into 3 areas. A center sunburst area which contains the log, a middle layer with the indices and a circular metallic brushing, and finally a matte finished train track chapter ring. Check out the video review below for all the details.
Watches:
Hamilton Kahki Aviation: https://bit.ly/2GyZ57s (out of Stock)
Ebay: https://ebay.to/2DS06DV
Hamilton Air Race: https://amzn.to/2EfCAls
Hamilton Khaki King: https://amzn.to/2Ef2buN
Hamilton Khaki Mechanical: https://youtu.be/_hOCvfeNJI4
Orient Mako X: https://youtu.be/zvYhQtQ0iNM
Straps:
Grey/Orange Nato: https://amzn.to/2EfFmqW
Leather & Green Nylon: https://amzn.to/2M39dED
Black & White Nato: https://amzn.to/2BQByuX